Visiting a church for the first time can be an anxious experience. Knowing what to expect is helpful. Here is something of what you can expect when you visit Faith Lutheran. If you have any further questions, feel free to contact us.
How should I dress?
We don't have a dress code at Faith Lutheran. Some of our parishioners, as an expression of their reverence for God's presence, prefer to dress more formally; others, intending no irreverence, prefer to dress casually. Wear what feels comfortable!
Where should I park?
There is plenty of off-street parking in our large parking lot. Handicap accessible is available by the back entrance to the sanctuary, under the big oak tree. Enter through the back door.
What about children?
We always welcome children in worship and aim to help families worship together. Our liturgical form of worship, with its weekly repetition, makes it easy for everyone to participate in worship.
What is the worship service like?
Our worship service uses a liturgical format that follows a consistent pattern from week to week. The entire order of service, complete with directions for when to stand, speak, etc., is printed in the bulletin that will be handed to you when you enter the sanctuary. A bulletin with a sidebar guide is also handed to everyone as they come into the sanctuary. Our pastor also gives verbal guidance regarding the service.
Our music is organ music by means of a music box. Live organists are hard to come by these days! Hymns are sung from common Lutheran hymnals.
If you are unfamiliar with liturgical worship, don't be concerned. You may find at first that you just want to stand back and observe; that is perfectly acceptable. You will discover that after only a few weeks you are learning the words and motions. For more information visit the Worship section.
Should I receive Communion?
Holy Communion is joyfully celebrated every Sunday and held in very high regard. Out of concern for those who commune, and in faithfulness to the Scriptures, we therefore encourage only baptized Christians who share our confession to receive Communion:
Whoever, therefore, eats the bread or drinks the cup of the Lord in an unworthy manner will be guilty concerning the body and blood of the Lord. Let a person examine himself, then, and so eat of the bread and drink of the cup. For anyone who eats and drinks without discerning the body eats and drinks judgment on himself. (I Corinthians 11.27-29)
For those who are not baptized or do not share our confession, you are welcomed and encouraged to come forward for a blessing. Simply join those in your pew when they are ushered to the altar, then at the communion rail cross your arms in front of your chest to indicate you would like a blessing, not the Sacrament. If you are interested in Baptism or learning more about what we believe, teach, and confess, please contact the pastor. He would be happy to talk with you.
What happens afterward?
After the service you are, of course, free to go, but for those who would like to get to know us better there is always plenty of coffee and refreshments available in the Fellowship Hall, followed by Sunday School at 10:30am-please join us! 
Lutherans refer to worship as the "Divine Service."
Our Lord is the Lord who serves. Jesus Christ came into the flesh not to be served, but to serve and to give His life as a ransom for many….Our Lord serves us today through his holy Word and Sacraments. Through these means He comes among us to deliver His forgiveness and salvation, freeing us from our sins and strengthening us for service to one another and to the world. (From our hymnal, Lutheran Service Book, page viii)
Worship at Faith Lutheran Church reflects what we believe, teach, and confess and therefore is Christ-centered, biblical, and sacramental:
Christ-centered—rooted and grounded in the atoning work of Jesus on the cross.
Biblical—saturated with Holy Scripture, read, sung, and proclaimed.
Sacramental—nourished by grace God gives us through Holy Baptism and the Lord's Supper.
Liturgy
As part of the one universal Christian Church we worship in the same biblical, historic and global way Christ's Church has worshiped in all times and places. The ancient liturgy is saturated with the Word of God and focused on the cross of Christ. We gather around Word and Sacrament to receive God's grace.
We use the orders of service from the Lutheran Service Book. The music is usually organ and piano-led, and most of the liturgy is sung.
Lectionary
A lectionary is an ordered pattern of readings from Holy Scripture that correspond to the Church Year. Each Sunday a reading from the Old Testament, the New Testament Epistles, and the Gospels, are woven together to convey a particular theme. In the so-called "festival" half of the Church Year, from Advent through Pentecost, the focus is on the story of salvation. The latter half of the year, from the Feast of Holy Trinity to the Last Sunday of the Church Year, focuses on the various teachings of the faith.
Faith Lutheran Church uses the three-year Lectionary.
Simply stated, we believe, teach and confess that salvation is in Christ alone by grace alone through faith alone on the basis of Scripture alone.
Scripture Alone: the belief that the Word of God (Holy Bible) is the sole authority and measuring stick when it comes to the faith and life of the Christian Church.  (Matthew 22:29; John 17:17; Acts 17:11)
Grace Alone: the teaching of the Bible that salvation is—from beginning to end—completely by God's grace apart from any good works of man.  (Ephesians 2:8-9)
Faith Alone: the teaching of the Bible that only faith can receive the freely-given gifts of God's grace.  (Romans 3:28)
Christ Alone: the teaching of the Bible that salvation is to be found in Christ Jesus and no other.  (John 14:6)
For a summary of what we believe about certain subjects click the boxes below:
God
God has revealed Himself to be the Holy Trinity, one God in three eternally distinct Persons: Father, Son, and Holy Spirit (Matthew 28:19; John 14-16; 2 Corinthians 13:12).
Creation
All that exists, visible and invisible, has been brought into being by God, and is sustained by Him (Genesis 1-2; Hebrews 11:3).
Sin
Since the fall of Adam all people are conceived and born in sin (Romans 5:12); this is called original sin. Because of this first disobedience, all people cannot fear, love, and trust in God above all things; all have sinned and fall short of the glory of God (Genesis 6:5; Psalm 51:5; Romans 3:11-18,23).
Jesus Christ
Jesus of Nazareth is the Eternal Son of God. God the Father sent His Son to be Savior of the world (1 John 4:14), to save sinners (1 Timothy 1:15). He assumed the flesh of man (John 1:1-14); lived a blameless life, obedient to the Father (1 Peter 2:22; 1 John 3:5); fulfilled the law (Matthew 5:17; Romans 8:2,3); was crucified and died on the cross as the atoning sacrifice for the whole world (John 19:30; 1 John 2:2); was raised from the dead (Matthew 28:1-10); ascended into heaven (Acts 1:6-11); sits at the right hand of God the Father almighty (Ephesians 1:20-23); and will judge the living and the dead (Matthew 24:29-31; Acts 10:42; 2 Corinthians 5:10).
Holy Spirit
God the Holy Spirit works and strengthens faith in us through the preaching of the Word (Romans 10:17). Faith in Christ is a gift of the Holy Spirit (Ephesians 2:8-9). No one can confess with the heart "Jesus is Lord" except by the power of the Holy Spirit (1 Corinthians 12:3).
Holy Communion
The body and blood of our Lord Jesus Christ is truly and essentially present in Holy Communion under the bread and wine for the forgiveness of our sins (Mark 14:22-24; Matthew 26:26-29; Luke 22:17-20; 1 Corinthians 11:21-31).
Law and Gospel
The Law demands that we have true faith, love, and trust in God; but in pursuit of fulfilling it, the law further reveals that we are unable to fulfill the demands that God places upon us; thus it reveals our sins (Romans 3:20).
The Gospel, the good news that Jesus Christ alone is our Savior, comforts our contrite hearts with the declaration that our sins are freely forgiven by faith in Christ's saving work for us; by faith we are clothed with his perfect righteousness (2 Corinthians 5:21); by grace alone through faith alone in Christ Jesus alone we are perfectly justified, declared righteous, and have the gift of eternal life (Romans 3:21-28).
If anyone preaches a Gospel contrary to this it is false, deceitful, spiritually harmful, and must be rejected, condemned, and accursed by all Christians (Galatians 1:6-9).
The Holy Ministry
Our Lord Jesus Christ, having completed His ministry of justification, created the office of holy ministry for the purpose of delivering God's grace through the proclamation of the Gospel and the administration of Holy Baptism and Holy Communion (John 20:22,23; 1 Corinthians 4:1).
Sanctification
As faith in Jesus Christ is the creative work of the Holy Spirit, the maturity of faith and the fruitfulness of it is also the work of the Holy Spirit; for without Jesus being given to us in Word and Sacrament by the Holy Spirit, we can do nothing (John 15:5). God has prepared works for us to do, showing that we are His workmanship and that He works in us, both to will and to work for His good pleasure (Ephesians 2:10; Philippians 2:13).
Prayer
Prayer is the response of faith to the promises of God in Christ Jesus; this call to God in the name of Christ is created by the Holy Spirit (Galatians 4:5,6). The Father hears the prayers of His children, who call to Him in faith (Matthew 7:7-11).
The Last Day
Jesus is coming again to judge both the living and the dead (2 Timothy 4:1). All flesh will be raised on the last day, the unrighteous shall depart from God's presence and enter eternal punishment and the righteous shall enter God's presence for life eternal (Matthew 25:31-46).
The Scriptures
The Scriptures of the Old and New Testaments are the sole rule, judge, and norm of our faith and doctrine. The verbally inspired and inerrant Word of God is the only rule and norm according to which all doctrines and teachers must be appraised and judged (2 Timothy 3:16; 2 Peter 1:20-21; John 6:68). The focus of the Scriptures is the proclamation of God's saving work in Christ Jesus (John 20:30,31; Luke 24:44-47; Hebrews 1:1-2).
The Book of Concord
St. Mark's Lutheran Church, along with all Lutheran Church-Missouri Synod congregations, subscribes to The Book of Concord, which is a collection of documents that Christians from the 4th to the 16th century (and since) have used to explain what they believe and teach on the basis of Holy Scripture.  This book is not the rule, judge, and norm for our life (Scripture is), but is a collection of confessions of the one true faith and correct expositions of what the Old and New Testaments teach. Because there are so many different interpretations of what the Bible teaches, the Book of Concord is a necessary collection of confessions that acknowledge and differentiate between true and false doctrines, thereby allowing the Bible to be that which rules and directs our lives.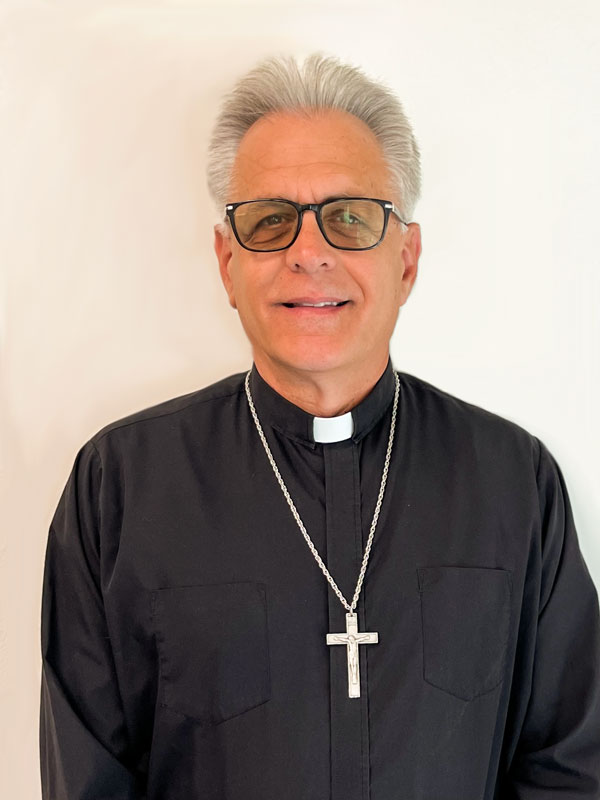 Pastor Stuart Sultze
Rev. Stuart Sultze has served at Faith Lutheran since June of 2020, first as vicar then after his ordination in July 2021 as pastor. He graduated with a Master's degree in Pastoral Studies from Concordia Theological Seminary in Fort Wayne, Indiana in May, 2020. In his first career, pastor Sultze was a chiropractor in Bakersfield, California for thirty one years.
He has been married to his wife Cathleen for 40 years and has 3 adult children and 3 grandchildren.
If you would desire pastoral care contact pastor Sultze at (661) 487-4853, or email the church at faithlc560@gmail.com